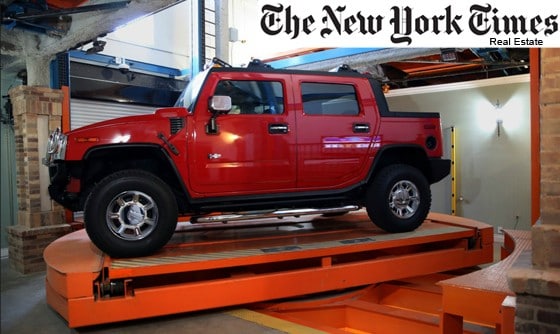 Hate Valet? Not to Worry; Help Is at Hand
By ALEXEI BARRIONUEVO
ONE OF THE BIGGEST curses the wealthy must endure in their otherwise pampered lives is the dreaded valet parking. You toss the keys of your Bentley to a parking attendant, who ends up changing your radio presets, sweating on your seats or, worse, leaving a scratch on your pristine paint job. Is this the good life?
But imagine a different world, one free of such proletarian strivers. You pull into your high-end condo building, drive your car onto a steel pallet and shut off the engine. The glass door of the oversized elevator closes and you and your car are whisked upward at 650 feet per minute. The elevator stops on the floor of your apartment and deposits your car in your parking space. You get out and walk a few steps into your home. As an added bonus, a glass wall separates your private garage from your living room, so you can stare at your fine automobile from your couch, as if it were in a showroom.
That reality doesn't quite exist yet in the United States.
But a Miami developer, Gil Dezer, has planned such a system for the Porsche Design Tower Miami, a luxury condo complex in Sunny Isles Beach, Fla. The development, which has already sold over half of its 132 units, is expected to be ready in early 2016. In the meantime, a smattering of residential buildings in New York, Miami and Los Angeles boast fully — and semi — automated parking systems that are time savers for residents, and space savers for developers.
To me it seems like the ultimate amenity for the car-obsessed. Parking attendants, however well-meaning, are human, and a parking garage can be a house of horrors, especially in a place like Manhattan, where every inch counts. And for celebrities and billionaires trying to keep their activities as secret as possible, who's to say whether the friendly valet isn't a tipster for a gossip blog?
"We have some celebrities who bought specifically because they don't have to see any valets or security when they come into the building," Mr. Dezer said. "They don't need to sign autographs, they don't need to take pictures."
In New York only one building, 200 11th Avenue, where Nicole Kidman and Keith Urban reportedly own an apartment, has created a parking system that lets residents ascend with their cars to their apartments. And it's not even fully automated. In fact it seemed fraught with peril at first glance. Residents drive into the garage and onto a car elevator, shut off the engine, and then, once the elevator has risen to their floor, have to back their car themselves into the private space next to their unit.
It sounded to me like a recipe for scratch city, especially with my poor driving instincts. But Leonard Steinberg, a broker with Douglas Elliman who lives in the building, designed by Annabelle Selldorf, and who worked on its development, said that residents had encountered few problems with the system since the building opened in 2010. He says the elevator does not operate until the car is shut off. When the resident arrives with the car at the apartment, a sensor automatically turns on the lights and an exhaust fan in the garage.
"The only area where you have to have a little bit of skill is backing up in your garage; beyond that it is pretty basic stuff," said Mr. Steinberg, who acknowledged that he is the only resident who doesn't have one of the private garages. "The people that live in the building and use this system are really loving it."
The garages are enclosed concrete structures with walls that can contain a fire for three hours, making them safe as well as soundproof, Mr. Steinberg said. "If someone crashed into a wall they would be crashing into a foot thick of concrete. There is not one bedroom or living space that abuts the garage or car elevator."
Two Manhattan buildings — 1 York Street in TriBeCa and 123 Baxter Street in Chinatown — have automated parking systems in which the resident pulls up and steps out of the vehicle, and then the system parks the car somewhere in the garage.
At 1 York, the developer Stan Perelman, who heads Jani Real Estate, said he researched systems around the world, eventually teaming up with a New Jersey company, Park Plus, which had licensed Swiss technology for use in the United States.
Residents who bought early in the building, like Michael Hirtenstein, were skeptical at first. "It just sounded a little kooky," said Mr. Hirtenstein, who has a 10,000-square-foot apartment he combined from five and a half separate units. "But I think it is great. Whenever there is any little problem, the service company comes and fixes it." He has three cars parked in the garage.
The resident drives into the garage and onto a turntable. If you go too far to the right or left the computer will tell you. After shutting off the car, you exit. Then the turntable rotates your car on the elevator (so it's facing out when it's returned). Metal teeth grab the car underneath the tires, and a trolley then breaks away, moving the car vertically and horizontally to one of the 40 parking spaces. It remembers where it parks people's cars based on a key fob used to retrieve it later. The whole process takes no more than a minute, Mr. Perelman said. (Mr. Hirtenstein says it takes about 75 seconds.) Motion detectors prevent the system from moving the car while someone is still in it (say if you left a kid or dog in there).The Park Plus system is capable of allowing residents to call their cars from their residences with a remote-control device or cellphone, but Mr. Perelman decided to turn that feature off. "What if you call for your car and then you get a phone call?" he said. "Your car will sit there for 20 minutes. We didn't think it was onerous to wait 30 to 60 seconds for your car."
For the developer, the automated system saved money and space. Park Plus built the spaces for a little over $35,000 apiece, and Mr. Perelman sold them to residents for $150,000 to $250,000, depending on the size of the car. The cars are parked only two inches apart.
There have been hiccups since residents started using the system in 2008. One woman ignored the "fold in mirrors" sign, and her Porsche got stuck in the elevator; the laser sensor refused to move it because it was perceived by the elevator as overly wide, Mr. Perelman said. Then there was the time the elevator wouldn't move a Mercedes when a huge piece of slush fell onto the turntable and blocked a laser sensor.
In Los Angeles — arguably the car capital of the country — the automated parking technology is just starting to be used in residential buildings. Christopher Alan, a developer, said the City of Los Angeles had been hesitant for years because of safety concerns. Now the potential space savings have suddenly become attractive, he said.
Mr. Alan created a company called AUTOParkit™ that builds automated parking systems in partnership with Omron, a Japanese company with a subsidiary in Illinois. He showed me the system this week in an eight-apartment rental building in Sherman Oaks. It seemed to function well. The company says it is the first, in California at least, to offer an automated parking system that does not require an attendant. He is seeking to install it in several other residential buildings in both Northern and Southern California, and said he had also had discussions with developers in Miami.
But no developer seems quite as ambitious as Mr. Dezer when it comes to parking for the super-rich.
In 2008, during the height of the housing crisis, Mr. Dezer found himself stuck with some 900 apartments in Miami he couldn't sell. He signed a licensing deal with Porsche Design and molded a concept around a building for car lovers, vowing to do something that no one else was.
After researching auto-park systems in Europe, where they have been in use for more than a decade, he contracted with an engineer who had built a special car-parking system in Germany for Volkswagen. Mr. Dezer asked the engineer to modify the system to allow for heavier cars and for passengers to be able to stay in the cars. The Porsche Design Tower's system will be able to accommodate cars up to 8,000 pounds, including the gargantuan Rolls-Royce Phantom and a Hummer H2, he said. To deal with fire concerns, the developer plans to install a sprinkler system.
Mr. Dezer is spending $24 million to build three car lifts that will each deliver cars to 44 apartments, but sees that as a cost savings over a multilevel garage. Every apartment will have two parking spaces; they are being sold to residents for $500,000 per pair. In a building where two penthouses of 12,000 square feet have already sold for $22.5 million apiece, it seems almost like an afterthought.
That may be especially true when you consider that a Rolls-Royce Phantom Aviator Coupé runs a cool half million these days.