AUTOParkit™ IN BRIEF
AUTOParkit is a fully automated parking garage. It is oftentimes referred to as an Automated Parking System. Or Autonomous Parking Garage. Or Robotic Parking System. Or High-Density Parking. It requires no operator to park (store) and retrieve vehicles. It operates upon request by a user.
AUTOParkit is classified as a pallet-based rack and rail system and does not require intermediate floors. The rack structure is a steel bolt and frame grid system that can be used as the building structure or attached to the building's structure.
AUTOParkit uses a modular-scalable architecture. Each installation is built from a standard set of subsystems to deliver an optimized solution for a specific site. There are only 12 subsystems comprised in the AUTOParkit System that provide limitless design possibilities.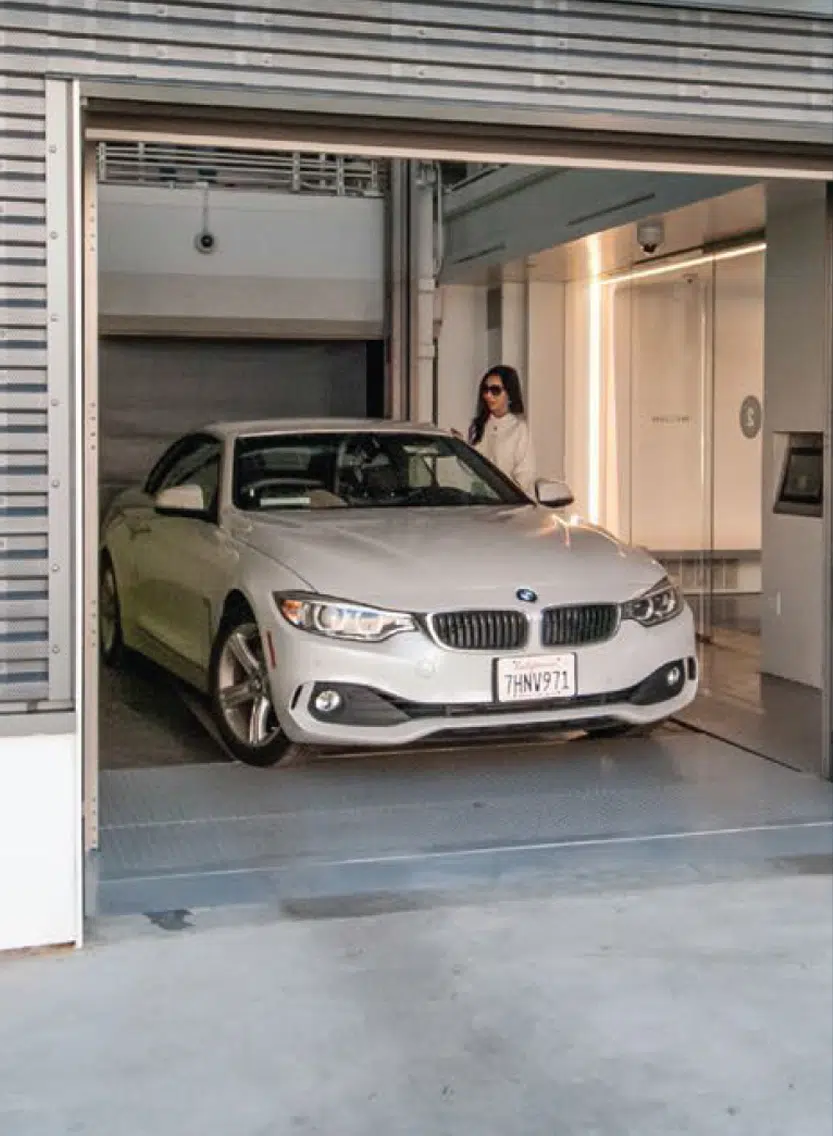 SUPERIOR DENSITY
AUTOParkit is a transformative technology that normally doubles the number of cars parked as compared to a conventional approach.
AUTOParkit addresses parking volumetrically at a cost equal to or lower than traditional parking structures.
AUTOParkit provides developers, building owners and communities a less expensive, innovative, and green approach to parking.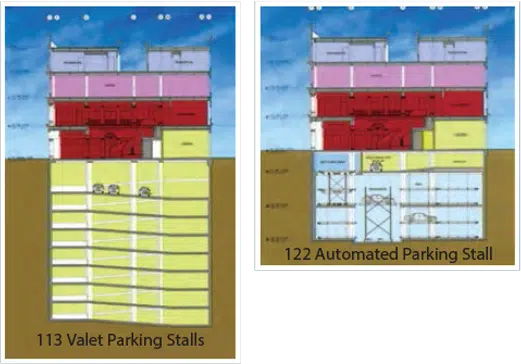 FULLY AUTOMATED PARKING GARAGE
Since we provide a Fully Automated Parking Garage, no attendants are required with an AUTOParkit System which is self-monitored with notifications on the performance sent via email or text message.
HOW IT WORKS
An AUTOParkit System is surprisingly simple. Drivers enter through a traditional garage door into a Load Bay (user-accessible drop-off / pick-up area) and onto a pallet (an indivisible platform that holds a single vehicle), turn off their car, walk a few short steps to a Park Kiosk where they activate the AUTOParkit System or use the mobile APP. Then their car is safely whisked away by an industrial proven, commercially adapted high-tech system. Once parked, cars stay secure in the unoccupied rack structure. Retrieval is just as easy. The user returns to a Retrieve Kiosk or mobile APP to request their vehicle. Moments later the car is delivered nose out, ready to drive away. The dreaded process of slowly driving on endless ramps, hunting for a space, parking in tight spots, climbing stairs or crowding into elevators burdened with belongings at all hours of the day (and night) is over!
The system automatically moves a pallet from the Load Bay (user-accessible drop-off / pickup-up location) to a rack storage location referred to as a stall. When required by the vehicle owner, the pallet with the car is then transferred from a stall to a Load Bay.
Green, More Sustainable Approach
Facilities with an AUTOParkit System may earn up to 17 LEED points based on:
Speed of construction & materials used.
Carbon reduction (emission-free).
Operating costs 40% lower than traditional parking.
Highly Reliable
AUTOParkit's automation parker is Siemens and uses only world-class controls with built-in redundancies, including industrial rated electric motors and drives. Safety devices include ultrasonic sensors, motion detectors, and HD IP cameras.
The reliability of an AUTOParkit System is enhanced by engineering consolidated motorized subsystems that are continuously monitored for optimal system performance 24/7.
User Safety & More Convenience
AUTOParkit shifts the parking paradigm so that every parking space is valet-served and ADA handicap accessible. Instead of a driver going to the vehicle, with an AUTOParkit System, the vehicle comes to the driver. During the brief retrieval time, users wait in a clean, well-lit, dry, protected, and highly visible valet station. Vehicles are delivered between 40-120 seconds. Because AUTOParkit is fully automated, belongings in the vehicle are safe and secure – car keys stay with the driver at all times.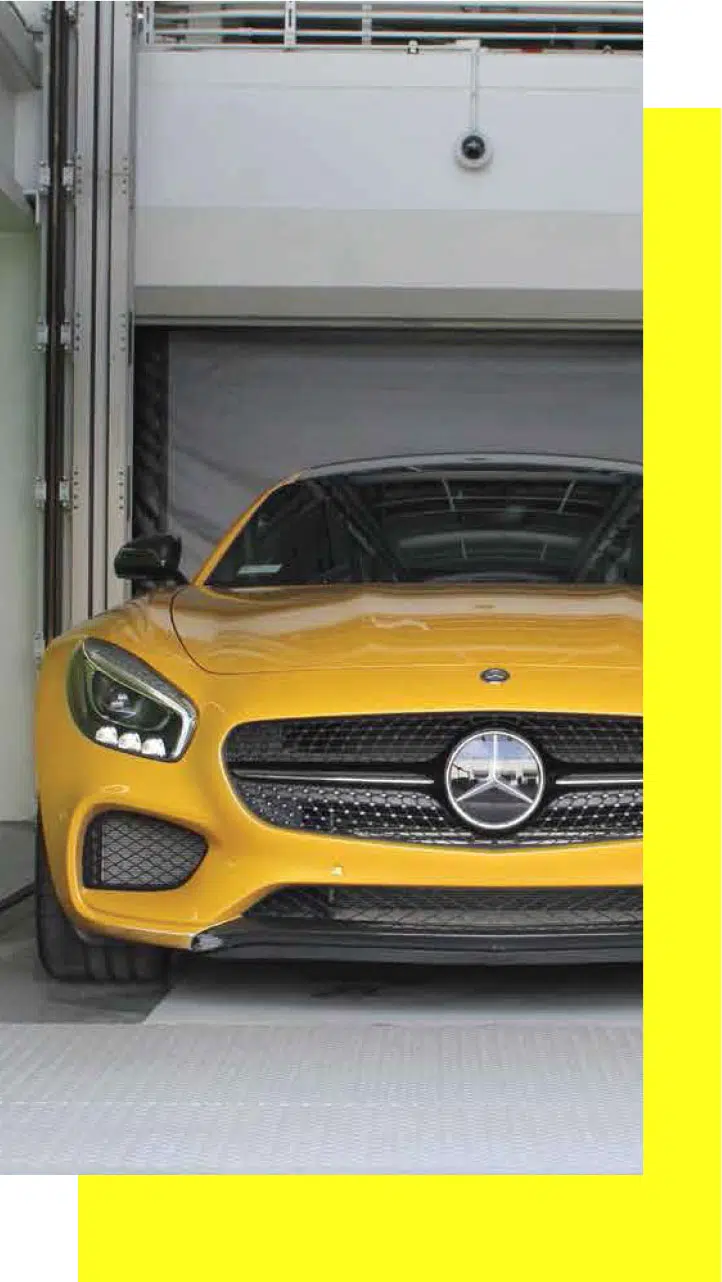 Attractive Tax Incentives
An AUTOParkit System is a capital equipment investment so it qualifies for an accelerated tax depreciation schedule of just seven years, far faster than the typical amortization for a conventional parking facility. a thing of the past, thanks to AUTOParkit.
Quick Modular Contruction
The modular design of an AUTOParkit System allows scalable solutions for both new and existing construction projects. Building owners and contractors are pleased to learn that due to all steel-frame construction, an AUTOParkit System can be built faster than traditional parking.
The façade around an AUTOParkit System can be constructed to mimic the surrounding area so well that passers-by would never guess a high-tech, fully automated parking garage is operating inside.