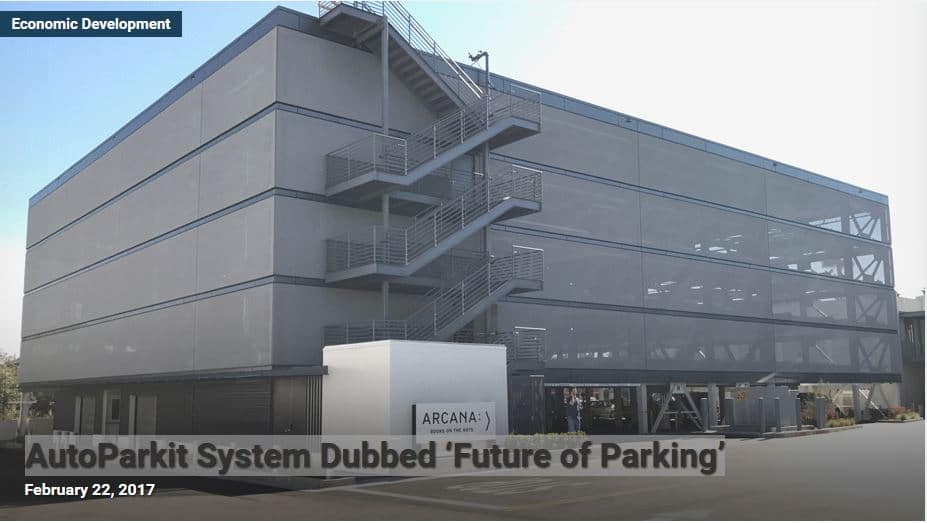 WARREN, Ohio – "The future of parking in Los Angeles" will be on display March 10 when the ribbon is cut on that city's largest fully-automated parking structure, which was built by Warren native Christopher Alan and his AUTOParkit™ LLC, says the developer of the historic Helms Bakery District.
Wally Marks, whose family's real estate company bought and restored the 11-acre Helms Bakery property in the 1970s, says he decided to invest in AutoParkit's automated parking technology for the employees who work at the 17 businesses leased there. The system transports and stores cars on steel pallets and provides a fully automated valet service with the swipe of a fob, he says.
A news release announcing the ribbon-cutting explained how the system works.
After leaving your car on the loading bay, it's transported to one of the 200 stalls inside the four-story structure by way of mechanically-operated steel pallets, the release says. "It's similar to the workings of a gigantic vending machine," Alan said. Cars are retrieved by a fob swipe in 40 to 120 seconds, delivered nose-out for ease of exit.
Marks credits Alan with "literally re-writing the building code with Bud Ovrom, the city's building and safety manager and former Mayor Antonio Villaraigosa. That's the reason a dozen local politicians, including Culver City Mayor Jim B. Clark, will be at the grand opening of this revolutionary structure," he says.
Alan is working with the city of Warren, Western Reserve Port Authority and the state of Ohio among others to locate the company's headquarters and primary manufacturing operations here.
Alan wants to locate the plant in the former Delphi Packard property on Dana Street Northeast but also has a backup site in the city if that falls through, city community development director Mike Keys said last week.
Mayor Doug Franklin has been invited to the Los Angeles ribbon cutting and a representative of the port authority might attend as well.
The AutoParkit system permits double the number of cars to be parked using the same space. Other benefits include environmental considerations – the structure reduces the release of various compounds such as carbon monoxide, carbon dioxide and nitrous oxides by 77% or more – and fuel savings, due to drivers no longer having to circle decks looking for a spot.
The company also cites safety considerations. The U.S. Department of Justice reports one of every 12 sexual assaults occurs in a parking garage. In addition, the deck's steel structure is more tolerant of quake activity than concrete decks.
Pictured: AUTOParkit™ parking deck in Los Angeles.
February 24, 2017
BUSINESS JOURNAL DAILY, Youngstown, Ohio.
www.businessjournaldaily.com
VIEW ARTICLE