AUTOChargit integrates into AUTOParkit for an automated parking solution or can deliver a standalone solution for a conventional parking garage/lot.
When AUTOChargit is deployed in an AUTOParkit System the user experience is both safe and simple. While the car is still in the Load Bay (drop-off/pick-up area), the user removes a charging cable from their trunk or backseat. They plug one end of the charging cable into their car and the other end into the pallet.
The final step is to answer two additional questions (see screen example below) on the touchscreen.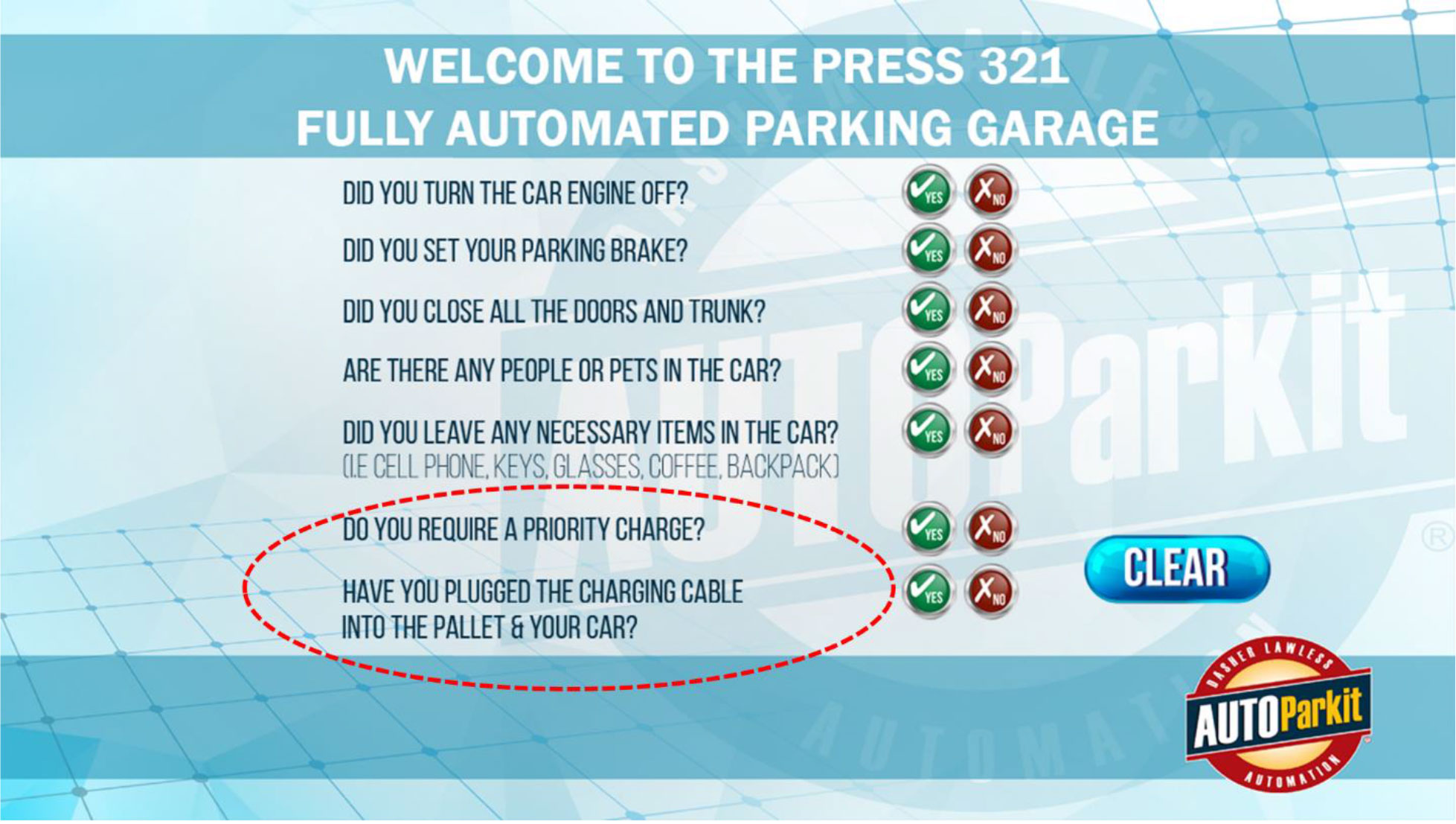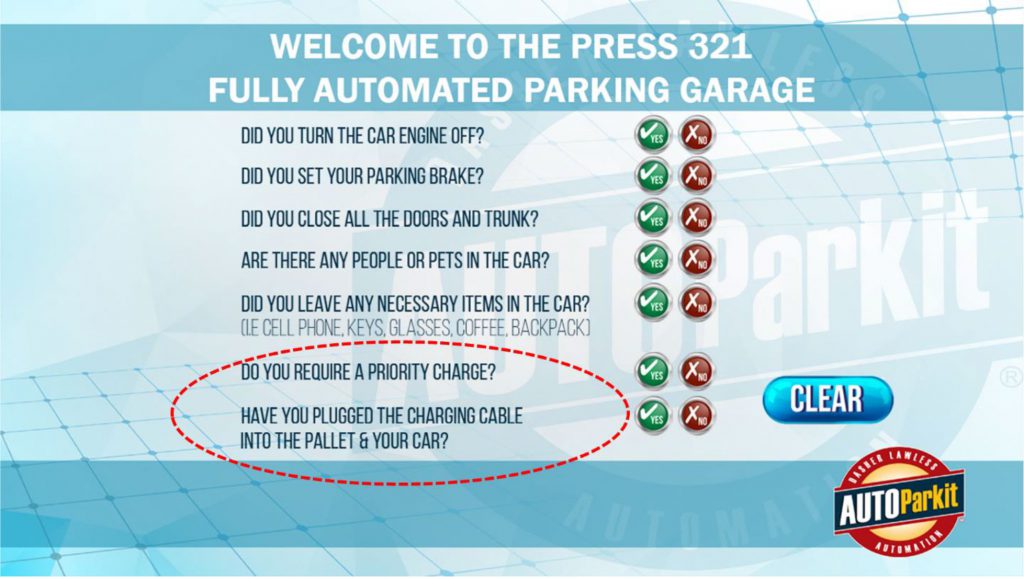 The two questions remind the driver of an EV (Electric Vehicle) to plug their car into the pallet and also inquires on whether a priority charge. The answer to the second question instructs AUTOChargit to bypass the normal queue of EVs waiting to be charged and place it at the beginning of the queue.
AUTOChargit is connected via the AUTOParkit mobile APP to allow a user to see the charging status of their vehicle. It also notifies the user of the charging status to make informed decisions when requesting their vehicle.
AUTOChargit technology takes a holistic approach to Advance EV Charging Systems. The user requirements of safe, reliable, and efficient vehicle charging are coupled with a user interface that is intuitive, streamlined, and flexible.
7 Key Benefits of an AUTOChargit Solution
AUTOMATED: The AUTOParkit System automatically places an electric vehicle (EV) into a fully Automated EV Charging Stall AUTOChargit then measures the electricity supplied and detects when the EV has finished charging so it can be swapped with another electric vehicle.
CONVENIENT: When a user drops of their EV in any Load Bay, they simply plug their car into the AUTOChargit Pallet.
EFFICIENT: By automatically swapping electric vehicles in and out of an AUTOChargit Stalls it reduces the capital expense for the total number of EV Charging Stalls required by the system.
REVENUE TRACKING: Each EV is individually metered for electricity usage and AUTOChargit automatically converts energy consumption into dollars that can be used to invoice clients.
UNIVERSAL: AUTOChargit provides Level I, Level II, and DC Fast Charging solutions. It can be integrated into automated parking systems or conventional parking garages/lots.
INTEGRATED: AUTOChargit can integrate information on peak hour demand for electricity and avoid charging vehicles at elevated supply rates.
EXPANDABLE: Additional AUTOChargit Stalls can be installed into the Rack Storage using any available AUTOParkit storage conveyor.