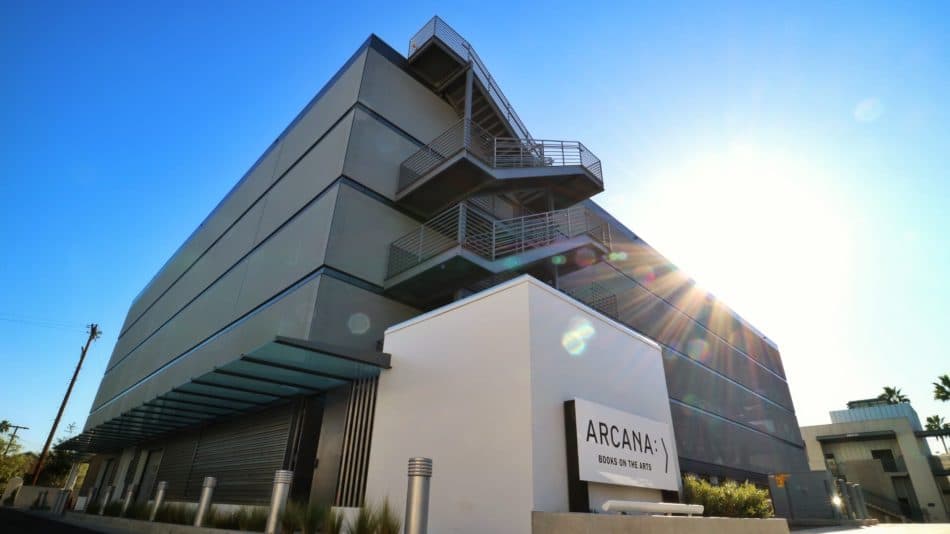 WARREN, Ohio – Auto Parkit LLC plans to move forward with its proposed multimillion-dollar project in Warren although it might not be at the former Packard Electric Building on Dana Street Northeast.
AUTOParkit™, founded by city native Christopher Alan, has a backup site expected to serve as an interim location for its operations here that "could be the permanent new location," said Mike Keys, Warren community development director.
Alan invited Mayor Doug Franklin to a March 10 ribbon cutting for a new fully automated parking structure in Los Angeles, Anthony Trevena, director of economic development for the Northeast Ohio Development and Finance Authority, informed the board of the Western Reserve Port Authority Wednesday. The finance authority is the port authority's economic development division.
Alan "would like to have the mayor of the city he grew up in, where the corporate office of Auto Parkit will be located, at the unveiling" to introduce him and the company's future home to the audience at the Los Angeles event, Trevena said.
Franklin and Alan did not respond to requests for comment.
Completion of the Los Angeles project has occupied Alan's time, according to Keys. Once that opens, Keys said he hoped Alan would return to Warren to make an announcement regarding the project here. If that doesn't happen, there is the "fallback position," the undisclosed site Alan has secured for interim use, also in Warren.
In October 2015, Alan announced plans to build Auto Parkit's new headquarters and manufacturing plant at the former Delphi property. The company, based in California, manufactures automated lift parking systems for vehicles at several sites Alan wants to consolidate in Warren.
In addition to the Dana Street site, Alan has a "secondary location so he can start doing some work while waiting for some of the rest of that to come together," Keys said.
"He's got a lot of contracts he's got to start moving on," Keys said. He intends to build the new plant and headquarters at Dana Street "but if that doesn't happen he does have a fallback position," and the interim site could wind up as the "permanent new location," he continued.
The Delphi site is undergoing a Phase II environmental assessment paid for with funds the port authority secured. It should be completed by April, said Sarah Lown, public finance manager for the development and finance authority.
Alan has contracted with local companies to provide some of the materials he needs for his company, Keys and Trevena said.
Trevena told the port authority board that Auto Parkit has spent more than $1 million on the Dana Street property and has six employees here.
"He basically has cleaned up the place and he's securing the building," Keys said. The ability to secure incentives later restricts the work that can be done on the property, he said. Even so, the property is "hundreds of percent better" than it was, he added.
Ownership issues remain to be resolved with the Delphi property, owned by Sergio DiPaolo.
According to Keys, Alan called the most recent meeting held regarding the property "very productive" and said things could be moving forward "very shortly." An agreement is going back and forth between attorneys.
"I'm confident we would have all that in place sometime in March," he said.
"We're very encouraged by what we're hearing," said John Moliterno, executive director of the port authority. "We know a lot of time and effort on a lot of people's part have been going into this, from the city of Warren down to all the various economic development entities involved with this. It would be a tremendous project for the city of Warren and for Trumbull County, and one that would benefit everyone if it takes place."
During its meeting Wednesday, the port authority welcomed its newest member, Sterling Williams, president of the board and owner of Sterling-McCullough Williams Funeral Homes in Youngstown and Warren.
Williams, of Howland, said he is concerned about retaining jobs and providing employment opportunities for youth. Unfortunately, he said, there are "a lot of great kids" but they lack opportunities here when they graduate from college. "This board is a conduit to be able to create jobs, bring back industry and enhance economic development," he said.
Williams' experience as a businessman in the Mahoning Valley will be "a big plus" for the port authority, said board Chairman Martin Loney. "He's going to be a big asset for us," he remarked.
AUTOParkit™ plans to cut the ribbon March 10 at this parking garage in Los Angeles.
February 16, 2017
BUSINESS JOURNAL DAILY, Youngstown, Ohio.
www.businessjournaldaily.com
VIEW ARTICLE